What is Divvy?
Divvy is Chicago's bikeshare system that offers riders a fun and affordable way of getting around the city. Divvy boasts hundreds of stations and thousands of bikes to help you get wherever, whenever — 24 hours a day, 7 days a week, 365 days a year.
How can I use Divvy with Transit?
Blue bikeshare pins show the location of Divvy stations on the map. The fullness of each pin represents the number of bikes and docks available. If there is a Divvy station nearby, you'll also see a blue Divvy card in the transit feed below the map.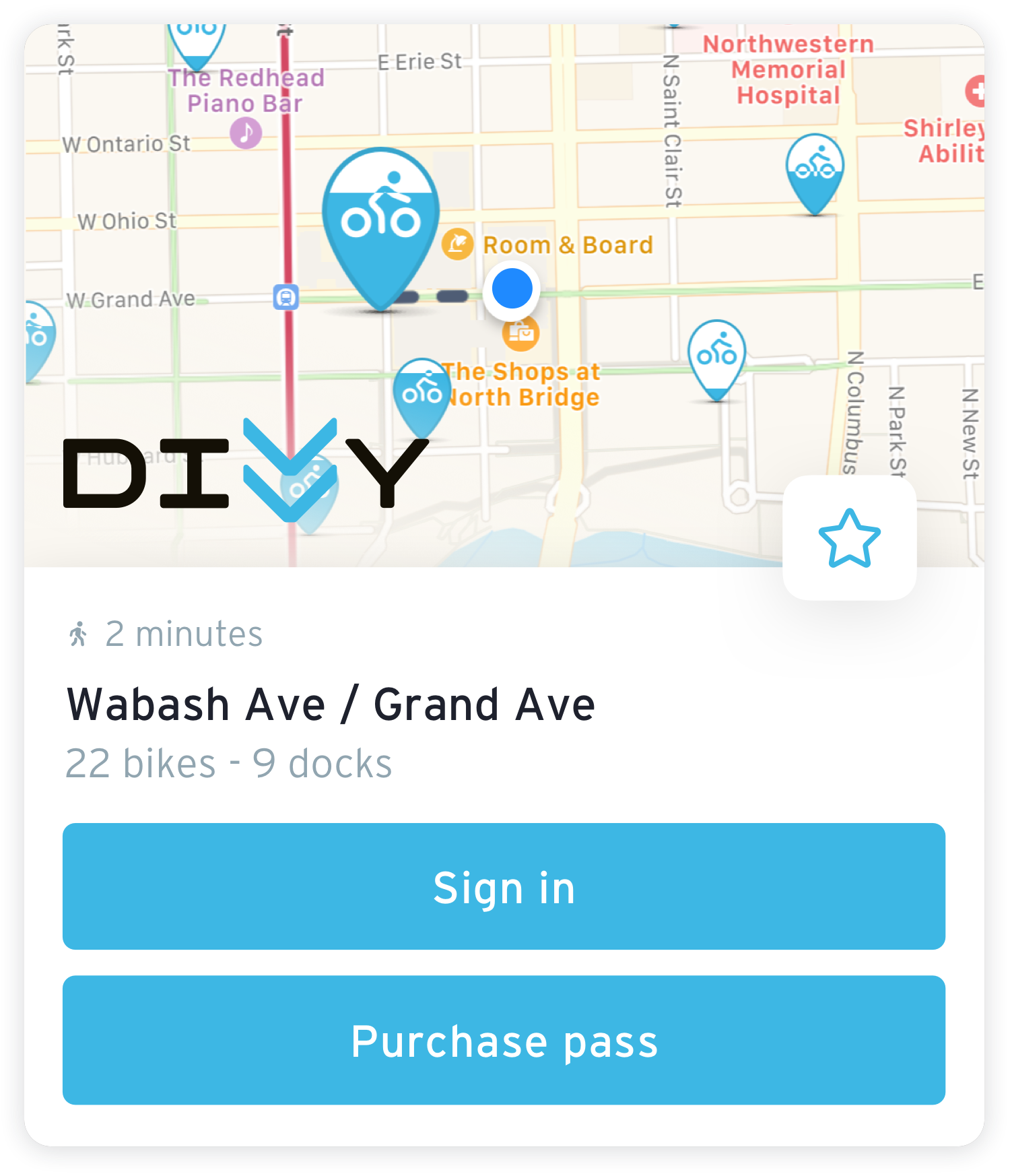 New to Divvy? Tapping on the bikeshare pin nearest you or the Divvy card enables you to purchase a pass and unlock a bike instantly.
If you're already a Divvy member, you can sign into your account using your Divvy username and password and request an unlock code directly from Transit. If you've lost or forgotten your Divvy key fob, using Transit is a great way to access the bikes.
How much does Divvy cost?
There are three great ways to ride Divvy: the Single Ride, the Explorer Pass, or the Annual Membership.
The $3 Single Ride option is great for quick commutes around town and includes 30 minutes of ride time. The $15 Explorer Pass is great for longer rides or a day of fun and includes unlimited 3-hour trips in a 24-hour period. The $99 Annual Membership gives you unlimited 45-minute rides.
If you go over on trip time for your pass, it's $3 for each additional 30 minutes.
Passes and memberships can be purchased in Transit! A pre-authorization of $1 per bike will be placed on your credit card to ensure the bike's return.
I'm not interested in using Divvy.
Like all the transportation options we support, Divvy can be disabled in the app's settings.
Need some help? Check out our quick how-tos:
Renting a Bike
Returning a Bike
Ride Again